NEW BOOK
Daphne's new book is out: "ASK" - a collection of the 1000 most-asked questions about gardening, with answers clearly spelled out in a few sentences; no waffle. Ideal for the experienced gradener or the beginner. Details: 448pp, isbn 9781846012785, Octopus Publishing Group, 2009. £7.99, hardback.


Other books written or co-written
The Patio Kitchen Garden: Robson Books
The Classic Gardening Forum Yearbook
Simply Gardening: Robson Books
The Awkward Spot: Robson Books
The Big Cover Up: Robson Books
Homing in on Houseplants: Robson Books
The Idiot Gardenerís Handbook: Robson Books
The Kitchen Garden Yearbook: Robson Books
Gardeners Direct Line: BBC Publications
The New Flowers: Cassell
The Victorian Garden Catalogues - Studio Editions

FOR READERS' DIGEST
Care Free Plants:
All Season Guide to Gardening
Container Gardening
All Amazing Gardening Secrets
The Time Saving Garden Forbidden Advice
Food from your Garden and Allotment
The Gardening Year


NOTES ON SOME OF THE BOOKS

ASK....2009

Publisher info: This compact little book promises to answer the 1000 most-asked questions that can frustrate all gardeners alike.

Covers: knowing how to identify your soil type, choice of tools, buying plants, seeds versus seedlings; problems of dealing with chronic pests and diseases, plants for difficult places, designing and re-designing, addressing garden needs in an eco-friendly way; and the finer details of perfect compost making, pruning and propagation.

Written by one of the BBC's Gardeners' Question Time panellists and researchers, Daphne Ledward has gathered together the gardening questions which she receives year after year. ISBN 9781846012785.


THE PATIO KITCHEN GARDEN....2001
There are very few people who cannot cultivate at least a few home-grown vegetables or fruit. Balcony-raised crops can be just as successful as those grown at ground level providing some shelter from the wind is given. And even if there is no space outdoors, suitably sized fruit and vegetables will thrive in a sunny window. In this innovative and practical book, author and broadcaster Daphne Ledward reveals that with the right techniques, the new millennium gardener can have his cake - or rather, fruit and veg - and eat it too. Beautifully illustrated with water-colours and colour photography, this practical guide to gardening will prove to be as useful to the expert as it is informative to the more novice gardener. (Robson Books, 2001)

KITCHEN GARDEN YEARBOOK....1998
Gardening expert Daphne Ledward takes the reader through year in the life of her kitchen vegetable garden. Daphne describes a full year in her vegetable patch, with clear, precise instructions for selecting and growing the right vegetables for your garden. ISBN 9781861051677; 184pp.

THE BIG COVER-UP....1989, repr. 1998.
Robson Books. ISBN-10: 0860515591.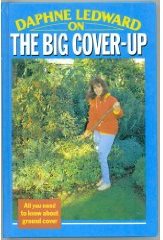 THE IDIOT GARDENER'S HANDBOOK....1996, revised
Gardening for the complete beginner, which assumes no previous knowledge and offers advice on tools, plants and techniques. In this book, completely updated and fully revised , gardening expert, writer and broadcaster Daphne Leward unravels the mysteries and goes back to basics for the novice-gardener, whilst also providing an essential memory-jogger for the more experienced. From choosing the right tools for the job at hand, to taking care of your lawn, and from explanations of the most basic gardening terms to sorting out real problems like shady spots or restoring the pH balance of your soil, the book is full of indispensible advice on achieving and attractive plot with the minimum of effort, mystique and expense. Robson Books, 1996.

THE VICTORIAN GARDEN CATALOGUE....1995
A Treasure Trove of Horticultural Paraphernalia. London Studio Editions. ISBN 1858912679 / 9781858912677. Available online from William Glynn and Amazon..

HOMING IN ON HOUSE PLANTS....1992
Robson Books, ISBN 086051840X. A book which offers practical help to those who lavish attention on houseplants only to watch them wither and die.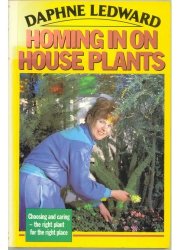 ......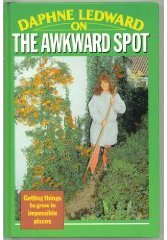 THE AWKWARD SPOT....1989
A gardener's guide to getting things to grow in impossible places (north facing shaded swamps etc.) 142 pages, colour plates, line drawings in text. isbn 0860515583 / 9780860515586. Available online from Aucott & Thomas and Amazon..

GARDENERS' DIRECT LINE....1988
ISBN 0563206934; BBC Books.

**Note that all of Daphne's books are available online from Amazon.**