BBC Lincolnshire Gardening Expert Daphne Ledward was diagnosed with cancer in late 2007. Daphne kept an audio diary of her experiences - she explains below how she was first diagnosed. The BBC owns the copyright of the article, which first appeared on the BBC Radio Lincolnshire website. It is reproduced by permission.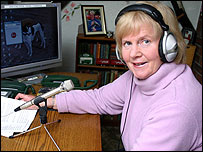 D.L. recording her audio diary at home. The recordings are accessible on the BBC Lincolnshire website.

Right - over to Daphne:


.............In the middle of November I noticed symptoms that one is advised to consult a doctor about, so being a chronic hypochondriac I hot-footed it to my GP.

Within a fortnight I had an ultrasound scan which showed abnormalities in the uterus, so shortly afterwards I was admitted for biopsies, and two weeks later my gynae said these had shown carcinoma of the lining of the uterus and recommended a hysterectomy as early as possible.

On 28th December 2007, I had a total hysterectomy - that means that the uterus and all the other associated 'female' bits were removed, hopefully to prevent the cancer spreading from its original site.

Having a hysterectomy is nothing like what it was 40 years ago when my mother underwent the operation. In those days, you were hospitalised for around 3 weeks and were effectively 'grounded' for anything up to six months. With me, I was out in 6 days and gentle exercise is actively encouraged.

The problem is my idea of 'gentle', which involves hoeing, pruning and hoovering, is nothing like that of my gynaecologist, who sees gentle exercise as making a cup of tea and wandering round the house, looking for jobs for John to do.

At first, the enforced rest was luxury, but as the days wear on, there is great danger of boredom setting in. Fortunately, after some fairly intense negotiations with a publisher I haven't worked with before, we have agreed a deal which means that for the next two months I shall be writing a book. This is ideal therapy, as it will keep me from worrying about the garden and the Patch, ensure I don't over-exercise, and encourage me to take a beneficial wander every hour or so, otherwise my brain tends to seize up.

The worse bit about the post-op time following an illness of this sort is waiting for the histology results. Depending on what these tests will show, I shall either need no further treatment other than regular check-ups, or, if the cancer has gone walkabout, I shall need radiotherapy. This waiting, I find, is the hardest part of all.

D.L.